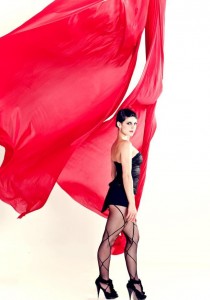 Now you can practice aerial silks at home! Buy your aerial fabric from Sky Gym and know exactly what you are getting. We sell the same equipment that we train on every day, so you know you can trust it. It is also the same material that Cirque du Soleil uses for its aerial fabrics performances. Other companies sell parachute material aerial hammocks that pinch and don't envelope the body like our fabric or medium/high stretch fabric that is hard to climb.
Sky Gym's aerial fabric is a specialized material made of a synthetic tricot blend that holds a minimum of 2,000lbs. It is triple woven from high density fibers, giving it incredible strength, yet stretches both vertically and horizontally. This low stretch aerial silk fabric is the most versatile type of aerial fabric. It climbs easily, yet stretches enough to cushion the body during full height drops. The fabric has a silky sheen.
The Aerial Hammock (sling) is 24′ of material and hangs 10′ when rigged. It will fit in a space with 8′-14′ ceilings. The Aerial Silk Fabric is 50′ of material and hangs 25′ when rigged, so it can be rigged up to 25′ high. All fabric comes in a width of 110″. We ship via UPS, and the products normally arrives in 4-5 business days.
Aerial Silk Fabric (25′ rigged): $199 
Aerial Hammock (10′ rigged): $99 
Here are a few sample colors.  We have 20 colors available in both lengths!!!  A full selection of our colors are listed on the purchase screen.

Shipping extra. International and rush shipping available, please call (404) 309-9696 or email info@theskygym.com.  All purchases are non-refundable.  Aerial fabric is sold without hardware. Aerial fabric must be hung by a licensed rigger. Aerial hammock hang-point should hold a minimum of 1,200lbs (no drops) and the full height aerial fabric hang-point should hold a minimum of 2,500lbs. Impact forces generated by full height drops could generate more than 3x the body weight, and a minimum of 10x body weight safety factor should be built in. By purchasing or using our silks, the purchaser or user agrees that Sky Gym is not liable for any damage, injury, or death caused during these activities. The use of this product is at your own risk. It is highly advised that you consult a professional coach for instruction and practice with professional grade landing mats.