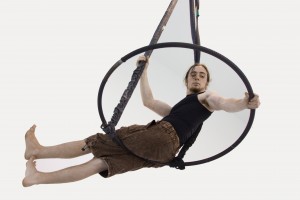 Date: Saturday, 10/19
Time: 1-3pm
Level: (L1+) Beginner Level
Cost: $45
Sign up here
The Lyra is often considered one of the most beautiful disciplines to behold. The simplicity of the apparatus, combined with the complexities of movement it offers, evoke wonder and awe in our audiences. Students will explore the power of the circle, and momentum. An understanding of the Lyra will provide a broader knowledge of the core skill sets used on other apparatus, as well as developing core strength and flexibility.
This 2 hour introduction to lyra will teach you the fundamentals of aerial hoop, including spinning, ways to mount and get down from the hoop, simple poses, as well as an overview of form and safety. The workshop also includes a warm up and flexibility segment, cool down and some aerial conditioning exercises.
Take a peek into how you can develop a fantastic skill, increase your fitness and your flexibility while refining your balance and core strength. Lyra leverages your own body weight as resistance to help you build upper body strength, create a flat stomach, improve your flexibility, and build longer, leaner muscles.
What to Bring
Wear comfortable, close-fitting clothes that offer a full range of motion – leggings and a leotard are preferred. You'll probably want something that protects the backs of your knees, such as tights or over-the-knee socks. Please do not apply lotion or oils to your skin before.
We must have a minimum of 3 people registered to hold workshop.