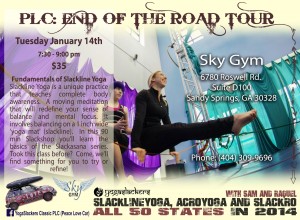 When: Tuesday January 14th
Time: 7:30 – 9:00 pm
Price: $35
We are offering a wonderful slackline yoga workshop!  This is a great opportunity to learn the fundamentals of this unique practice that teaches complete body awareness. A moving meditation that will redefine your sense of balance and mental focus. It involves balancing on a 1 inch wide 'yoga mat' (slackline). In this 90 min Slackshop you'll learn the basics of the Slackasana series. This includes standing (commitment), kneeling (core strength), sitting (focus), arm balancing (breath), as well as exercises for more seasoned slackers to expand their comfort zone on the line.
All skill levels encouraged to come. No experience necessary.
Took this class before? Come, we'll find something for you to try or refine