.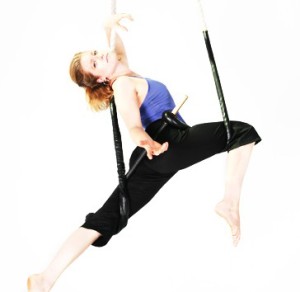 When:  Sunday, July 20th, from 2:30-4pm
Levels:  Beginner, no experience needed
Cost:  $35 before 7/20, $45 day of workshop (7/20)
Register Here
This 90 minute workshop will start by showing you ways to warm up specifically for aerial work. You will learn proper body positions and how to be a spotter to start a safe, long term practice. Then, paired up with your spotter, you will get on the trapeze and start learning moves, poses and progressions. Melissa's trapeze modality will have you building your foundation at your own pace. Every student will receive handouts for notes and vocabulary. By the end of class, you will be piecing moves into progressions with music so you can enjoy what it feels like to dance in the air! Class will end with a grounding cool down and take advantage of the warmth in your muscles for a little flexibility training. Finally, as you melt into restorative stretches, Melissa will demonstrate a little trapeze to inspire you! Ready to try something new? Sign up! No experience needed. Please wear stretchy athletic clothing that is snug and covers behind the knees and bring long socks or leg warmers. Please arrive at least 5 minutes before class to sign in and prepare to have fun! A minimum of 4 students are required to hold workshop.