Ready to take to the skies? Once limited to an elite few, now Sky Gym brings the amazing art forms of aerial dance and cirque arts to you! We focus on making aerial dance and cirque arts safe and accessible for everyone. Learn how to create breath-taking performances in the air. Our program will build upperbody and core strength, increase range of motion and flexibility, challenge your fears and develop your creativity.
Aerial Dance Classes
---
The Sky Gym aerial dance program is for students of all levels ranging from the complete beginner with no experience to professional aerialists. Learn to fly on a variety of equipment such as aerial fabric, trapeze, lyra, aerial rope (corde lisse), and our own unique invented apparatuses. Our classes are designed to fit your unique goals, whether you are looking to get an exciting new work-out, seeking a new creative outlet for expression, or working toward performing professionally. Over the years, we have developed a proven system of training that will take you from absolute beginner to accomplished aerialist. Watch how your body, mind, and spirit transform when your feet leave the ground!
Introduction to Aerial Dance
Pre-requisite class for all aerial dance classes. This 90min class covers safety and fundamental skills on a variety of aerial equipment. You will learn hanging, sitting, standing and inverted poses that will form the foundation for all poses and sequences in Level 1 (L1) aerial dance classes. *Sky Yoga and Junior Sky students are not required to take the Introduction to Aerial Dance class. If you have previous aerial dance training, you may not be required to take the Intro to Aerial Dance class. Come to Supervised Practice for a trainer evaluation.

---
Aerial Silks
Aerial silks (also known as fabric or tissu) is one of the newest and most challenging, yet most awe inspiring forms of aerial dance. Aerial silk artists climb, twist, spin, drop, and contort themselves on fabric sheets that hang from floor to ceiling. The beauty of the flowing material wrapping around the body is matched only by the breath-taking courage needed to be suspended several stories above the ground. It will build upper body strength, tone your core, and increase your flexibility. Aerial silks will push your boundaries both physically and mentally.
---
Trapeze
Trapeze is one of the oldest aerial arts disciplines and has formed the basis for much of today's modern aerial dance vocabulary. Our trapeze classes give students a broad introduction using a variety of trapezes including classical circus style, double trapeze, static trapeze, dance trapeze, and silk trapeze. The beginning student will often find sitting, standing, and gripping a horizontal bar more familiar than maneuvering other apparatuses. Advanced students will be challenged with beats, swings, rolls, and rope work.   *Please note that we do not offer flying trapeze.
---
Lyra
Lyra (also known as aerial ring, aerial hoop, or cerceau) is a circular metal hoop that is suspended from the ceiling. It's shape complements the human form and creates a mesmerizing effect when spun. You will be introduced to a variety of lyras including double point, dance lyra (trap lyra) and single point. Explore how aerial movements translate to a round shape and learn the unique properties and possibilities of the lyra.
---
Aerial Fitness and Yoga Classes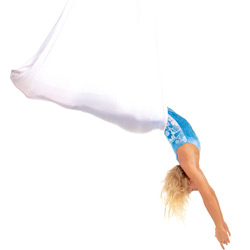 Sky Yoga
Pre-requisites: None
Class Focus: Restoration and Stretching
Sky Yoga is yoga performed in aerial silks hammock. You've never had a yoga class like this before! Use the silks to help you ease into poses that normally put strain on your spine and low back. Let the stability of the silks guide you deeper into classic yoga poses. Reinvent old familiars turning them literally on their head! Increase your flexibility and relieve spinal tension while developing solid core muscles.
---
Wings of Steel
Pre-requisites: Introduction to Aerial Dance
Class
 Focus: Conditioning
Think cross-fit for aerialists! This class is an intensive work-out for all levels of aerialists, from Beginner to Advanced. Prepare to be challenged and totally spent by the end of class! Students work at their own pace both on the ground and in the air.  Use Wings of Steel to build up to the next stage of aerial work, to improve your performance, and to create a muscular and toned body.
---
Cirque Arts Classes
Partner Balance
Partner Balance is a physical practice that blends elements of yoga, acrobatics, and healing arts. These three practices form the foundation of a practice that cultivates trust, connection and playfulness between partners. Balancing on another person while in various yoga positions will challenge your strength, stability, and trust.
---
Contortion
Pre-requisites: Forward bend toe touch, comfortable backbend from ground
Class
 Focus: Active and passive flexibility
The focus of this class is on passive and active flexibility with no limits. Using the weight of your own body to build muscle will drastically improve strength while leaving muscle mass looking proportionate to your size. Full body stretching lengthens limbs and gives your acrobatics long, clean lines.
---
Private Lessons
Book private lessons if you are serious about learning aerial dance or are looking for a fun, private get together with friends. Hire Atlanta's top aerial coaches as a unique individual work-out, a fun get-together with friends, or to enhance your aerial training.
Private and Semi-Private Coaching
One-on-one coaching will train you with your specific goals in mind. Dig deep into technicality, polish your movement, or progress at accelerated rate and learn customized sequences tailored to your goals. Create a performance to "wow" people or use it as an exciting alternative to personal training. Private lessons are also a great option if you are trying to advance to the next level but are having difficulties with a particular sequence.
Dates and times are flexible, call (404) 309-9696 or email dance@theskygym.com for availability.
---
SKY Parties
Sky Gym instructors are available to host your private party. Private parties can include birthday parties, bachelorette parties, graduation parties, or just a group of people who would like to try something different. Parties are hosted in our private Sky Yoga room at our aerial studio. Private Parties are $35/person and typically cover the Intro to Aerial Silks material. 50% deposit must be paid to secure a reservation, and 50% will be due at the beginning of the event. There are no refunds or partial-refunds for private parties.
 1 hour party: min. 4 people/ max. 8 people
 2 hour party: min 8 people/max 16 people
Dates and times are flexible, call (404) 309-9696 or email dance@theskygym.com for availability.