Ready to take to the skies? Once limited to an elite few, now Sky Gym brings the amazing art form of aerial silk dancing to you! We focus on making aerial fabrics safe and accessible for everyone. Learn how to create breath-taking performances in the air. Our program will build upper-body and core strength, increase range of motion and flexibility, challenge your fears and develop your creativity.
The Sky Dance program is great for students of all levels ranging from complete beginner to professional aerialist. Our classes are designed to fit your unique goals, whether you are looking for an exciting new work-out, a fun way to move your body, or a pre-professional training program. Over the years, we have developed a proven system that will take you from absolute beginner to accomplished aerialist. Watch how your body, mind, and spirit transform when your feet leave the ground!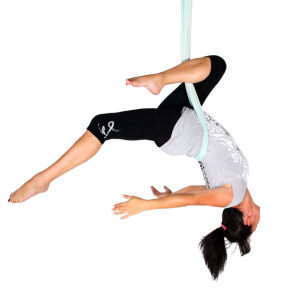 Introduction to Sky Dance
Working height: 4′ or lower
Focus: Foundations
Pre-requisite : Must complete Liability Waiver
Try the Introduction to Sky Dance to get a feel for flying. This class is designed for beginners, so don't worry, even if you have little upper body strength, you will still be able to do the basic moves. For those with more upper body and core strength, you will be introduced to advanced variations on the basic poses that will challenge and inspire you too. All your future classes will build on the basics skills that you will learn today. Express your creativity in the air as you tone your body. Surprise yourself by replicating poses from Cirque du Soleil, and dream of your own debut.